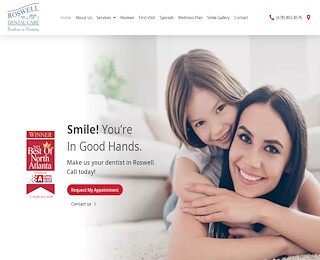 While searching for a preventive dentist in Roswell, GA, keep Roswell Dental Care in mind. We're leading the industry in providing preventive treatments, procedures, and services designed to save our patients money. Why pay more for the newest dental care services when we make modern dentistry pain-free and affordable?
Why Consider Preventive Dentistry?
Routine checkups and cleanings are proven effective in preventing cavities and helping you avoid the costs of restorative dentistry. Treatments like sealants and fluoride do an excellent job of protecting teeth from everyday elements that compromise tooth enamel: bacteria and sugar, to name just two. Investing in preventive treatments is the ounce of prevention that prevents the pound of cure. Paying for cleanings now will save you money in the long-term.
How to Choose a Preventive Dentist in Roswell, GA
Look for a dental care provider that has invested heavily in new equipment and training for their staff. You'll find Roswell Dental Care on the leading edge of modern dentistry, offering all of the following:
Affordable In-House Wellness Program
Fluoride & Sealants
Digital Imaging
Sports Mouthguards
Hard and Soft Tissue Laser
Education for younger patients
Pediatric Dentistry
What If I'm Not Insured?
Our Wellness program is designed to keep dental care costs to a minimum by providing quality dentistry for one annual fee. You can take a closer look at our program when you click the 'Wellness Form' link on our homepage. We offer Single, Dual, and Family plans with options to add additional members to your plan at cost. Investing in our Wellness Program is one of the best ways to experience real value throughout the year, with the following perks and benefits:
Two annual checkups, healthy mouth cleanings, and fluoride treatments
Initial visit and new patient comprehensive examination
Annual problem-focused visit
Annual cavity-detecting x-rays
15% discount on all other services
No deductibles
No card to carry
Sign Up Today
We'll keep your whole family's teeth healthy and white when you trust us as your preventive dentist in Roswell, GA. Along with comprehensive preventive services, we are proud to offer our patients a full continuum of care that includes restorative dentistry, cosmetic dentistry, new technology specialized dentistry, and sedation. See our 'Services' section for additional information on how we continue meeting the needs of the Roswell community with affordable, full-service dental care.
Convenient Access to Modern Dentistry
Our accessible location on Old Alabama Rd means you'll have the added option of fitting your checkups and cleanings in with errand running and everyday activities around Roswell. The American Dental Association agrees that choosing a dentist based on its location increases the likelihood that you'll keep your appointments, and while it should not be the only criteria for your selection, it's just one more reason to make us your home for family dental care. Schedule a new patient visit to see our preventive dentist in Roswell, GA this week. We gladly accommodate same and next-day appointment needs.
Preventive Dentist Roswell GA
Roswell Dental Care
(770) 998-6736
1570 Old Alabama Rd #102, Roswell, GA 30076
View Larger Map